Welcome to the 2023 Diamond Deep Dive! In this blog, I will be going into all of the specifics and taking the readers through the entire build process of my new 2023 Diamond Race Cars dragster!
The build process really started in late April of 2023. Dan Davies, the owner of Diamond Race Cars, sent me a picture of a car that had just come off the jig from being welded and asked "you ready for a car yet?". I told him I was ready and would take that one, since he had a customer back out on it. Dan told me by the time he got it powder coated and completed to the assembly phase I specified (complete roller ready for wiring, motor, and transmission) that it would be about the middle of June before he was done with it.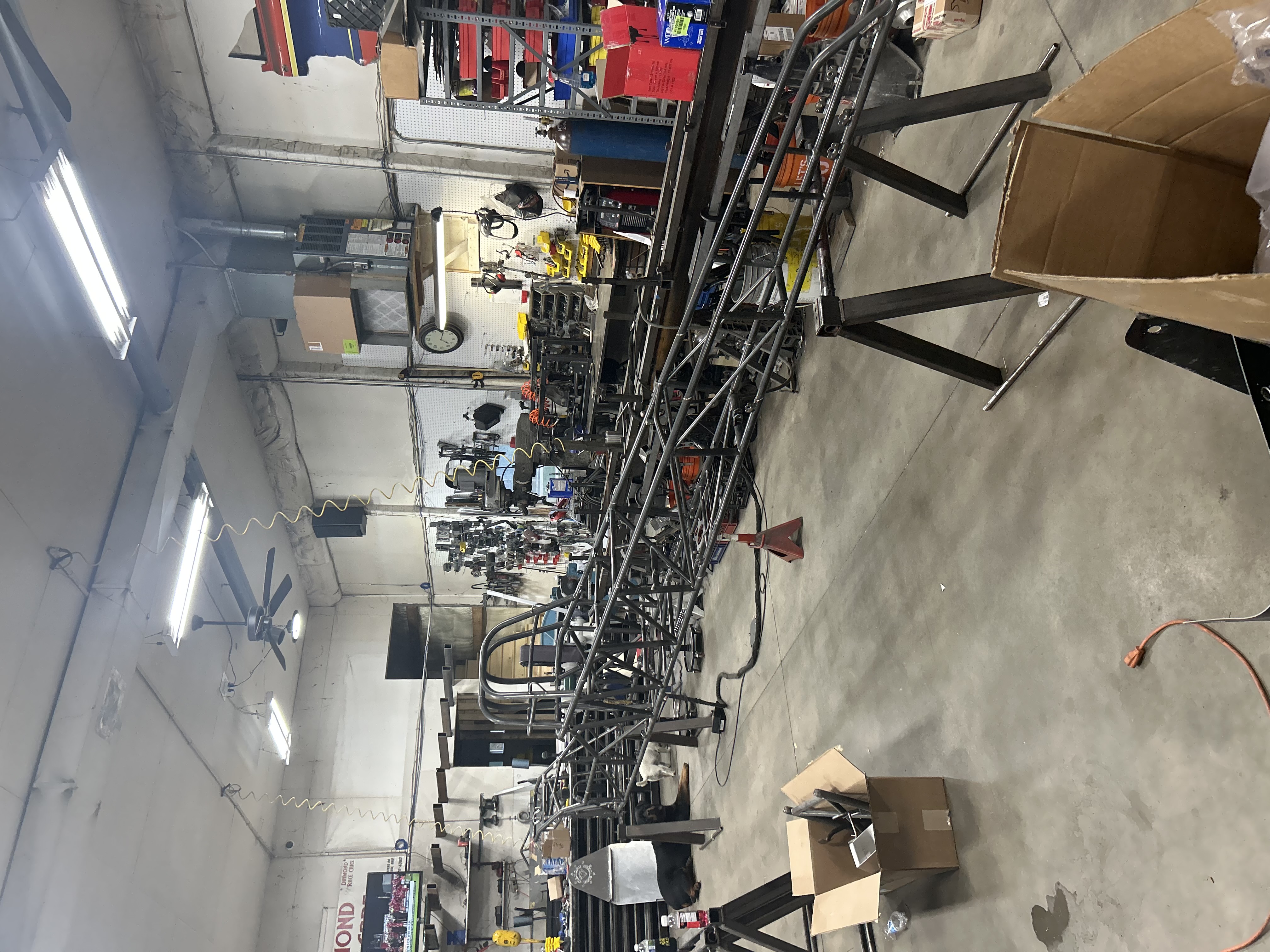 Given I had a really busy May and June due to my fiance and I at the time getting married at the beginning of June, I patientlly waited for Dan to give me that call that it was ready.
Around a week after confirming the car's options and sending him a things to pre install, he asked me about powder coat color on the car. I knew the main color I wanted the body to be painted was a bright blue, so I didn't really want a bright powder color on the car. He suggested to me a color he had been using called 'Wet Charcoal' from Prismatic Powders. I looked on Facebook and found a couple different cars with the brigt color / gray powder combination and decided to give it a shot, considering dad's car is powdered black and I really like the black look.
Again, about one week after confirming the powder color I was sent the following picture when it got back to his shop: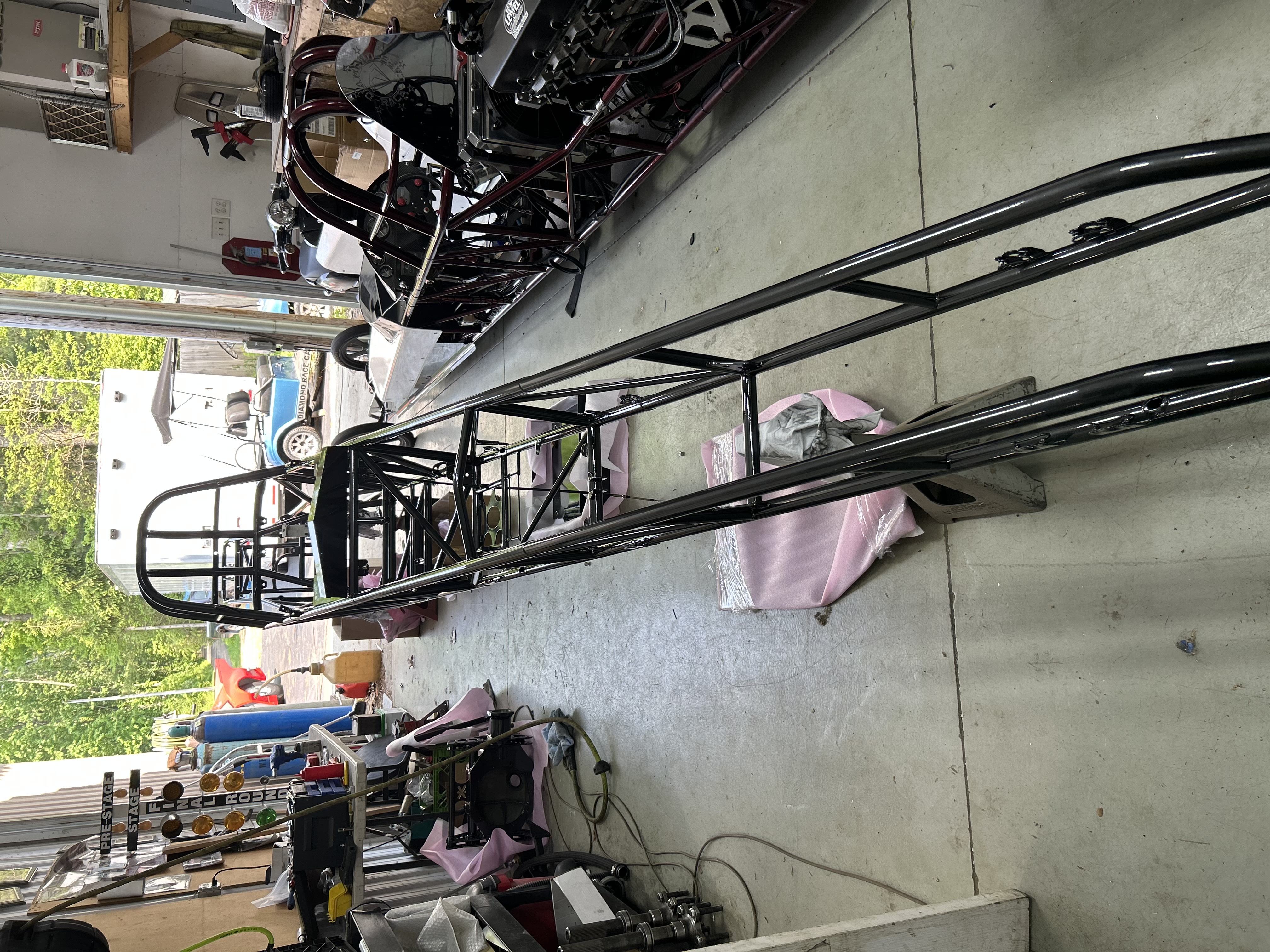 At this point, it was time to start the assembly of the car with the few pieces I had sent. I had sent him a Stroud parachute, a K&R Performance on board air compressor, Pro 1 Elite Series seat belts, and the brand new Titan Ultra PG shifter from Drag Race Solutions. After about a week and a half of assembly, Dan informed me it was ready for pick up to be wired with the following pictures!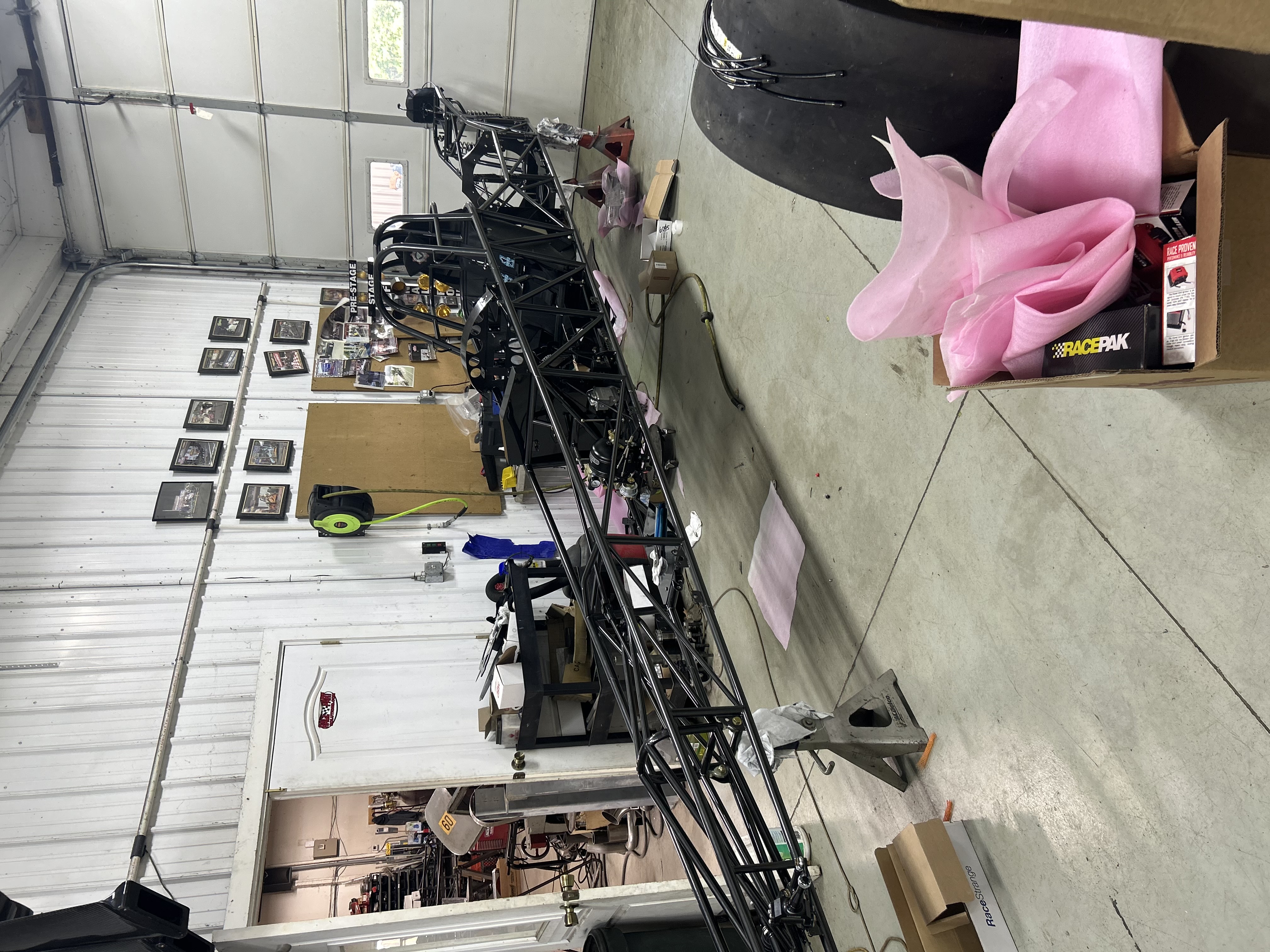 I opted for dual Penske shocks on the rear, as well as the famous Diamond front suspension to give this dragster the smoothest ride of any chassis in the world.
Once Dan got the rear end fitted underneath and installed the Moser 40 spline gun drilled axles and 4.10 center section, it was ready for some wire.
Upon getting the news it was ready, David Lanning at Lanning Electric sent his father to pick up the car and bring it back to David to wire, since they live only about 45 minutes from Dan compared to our 8 hours.
I cannot say enough good things about David. Not only did he knock it out in a week, the wiring is so clean and well run and everything works exactly like it's supposed to. In addition to this, when we were in Stanton for the "OG 50K" race, my MSD Grid was not showing I had any of my runs recorded on it's data aquisition mode. David came down to the trailer at 10 o'clock at night and helped me fix it.
Below are some pictures of the work David did on the car. Absolutely sick!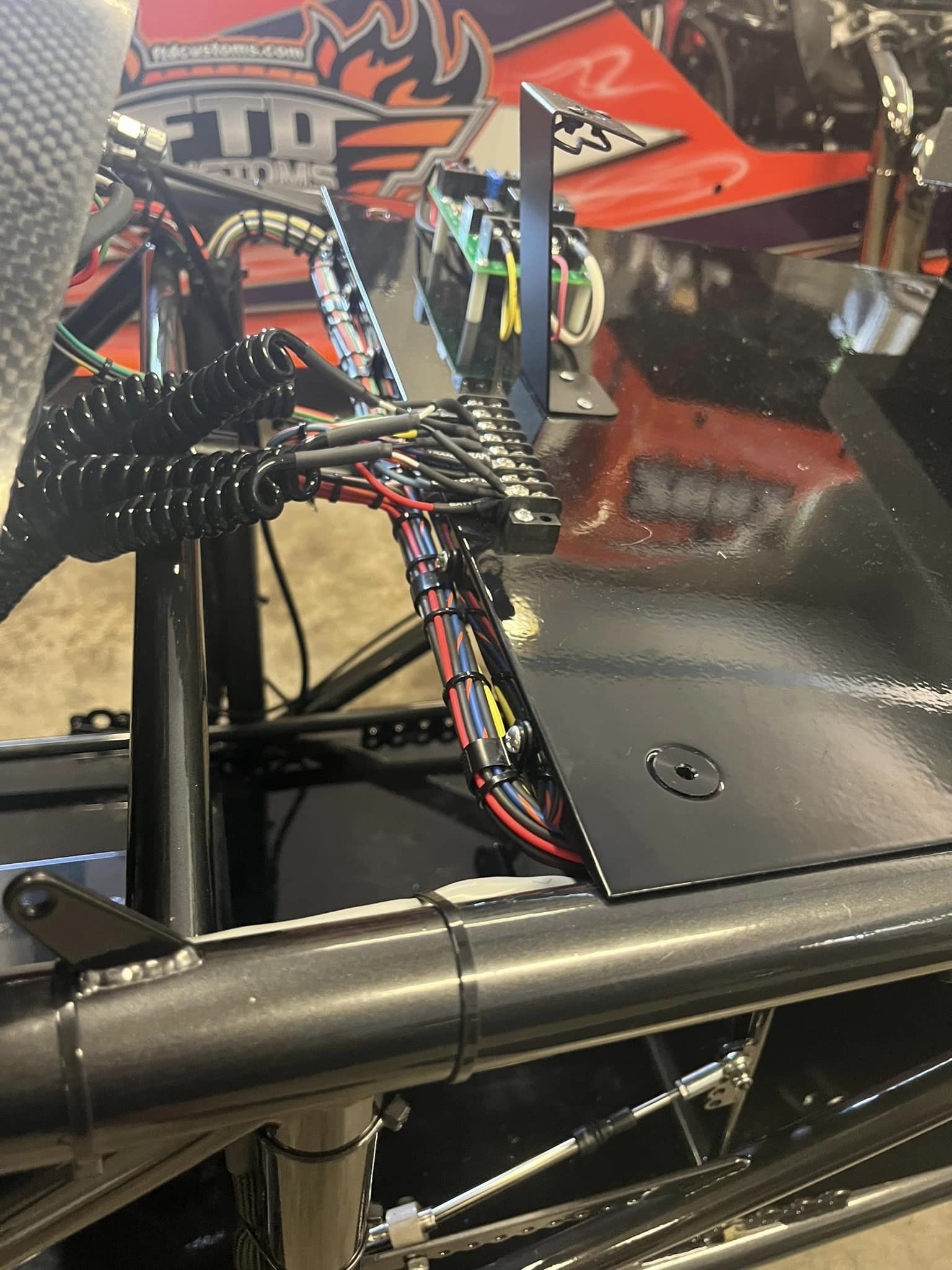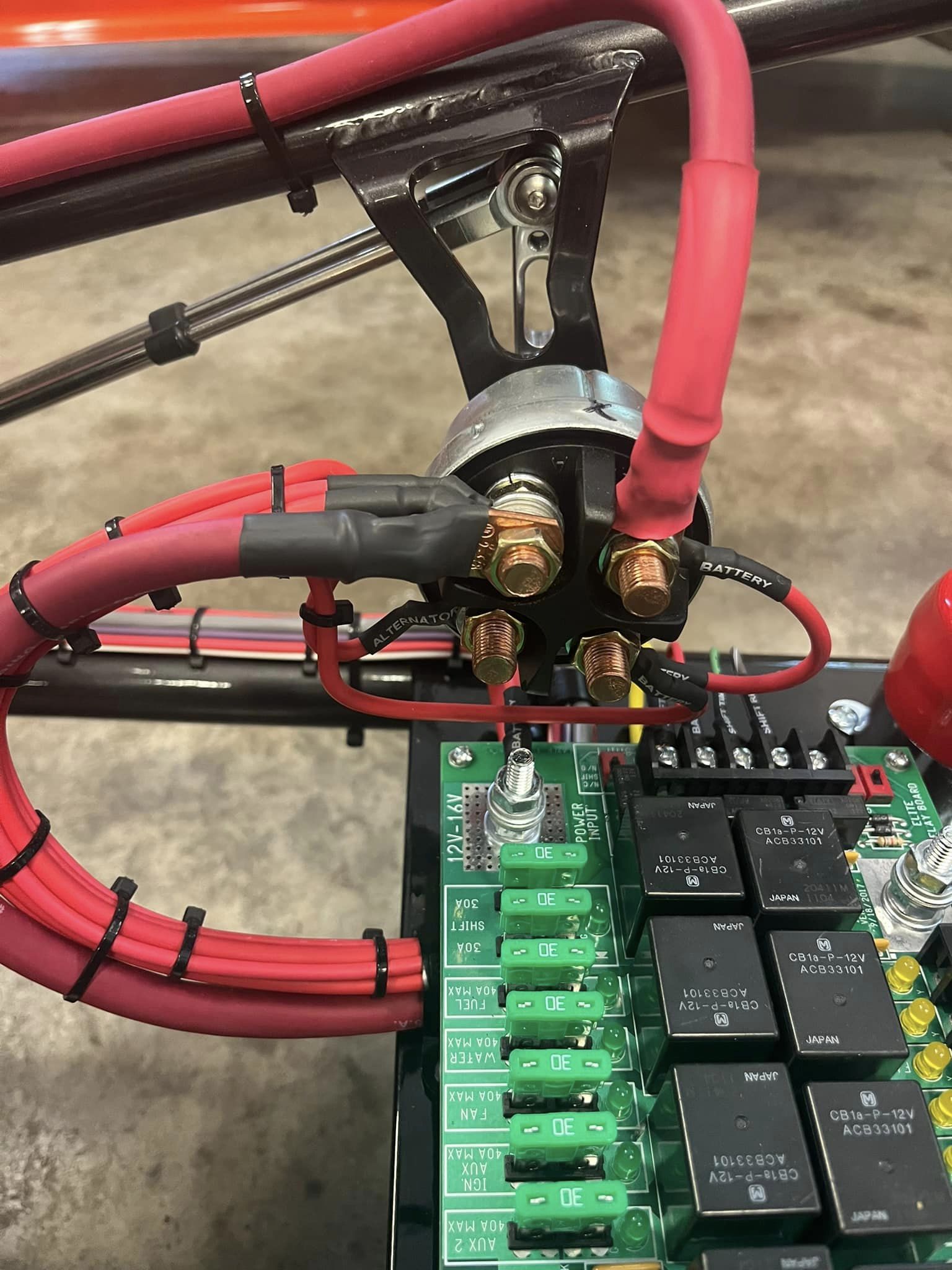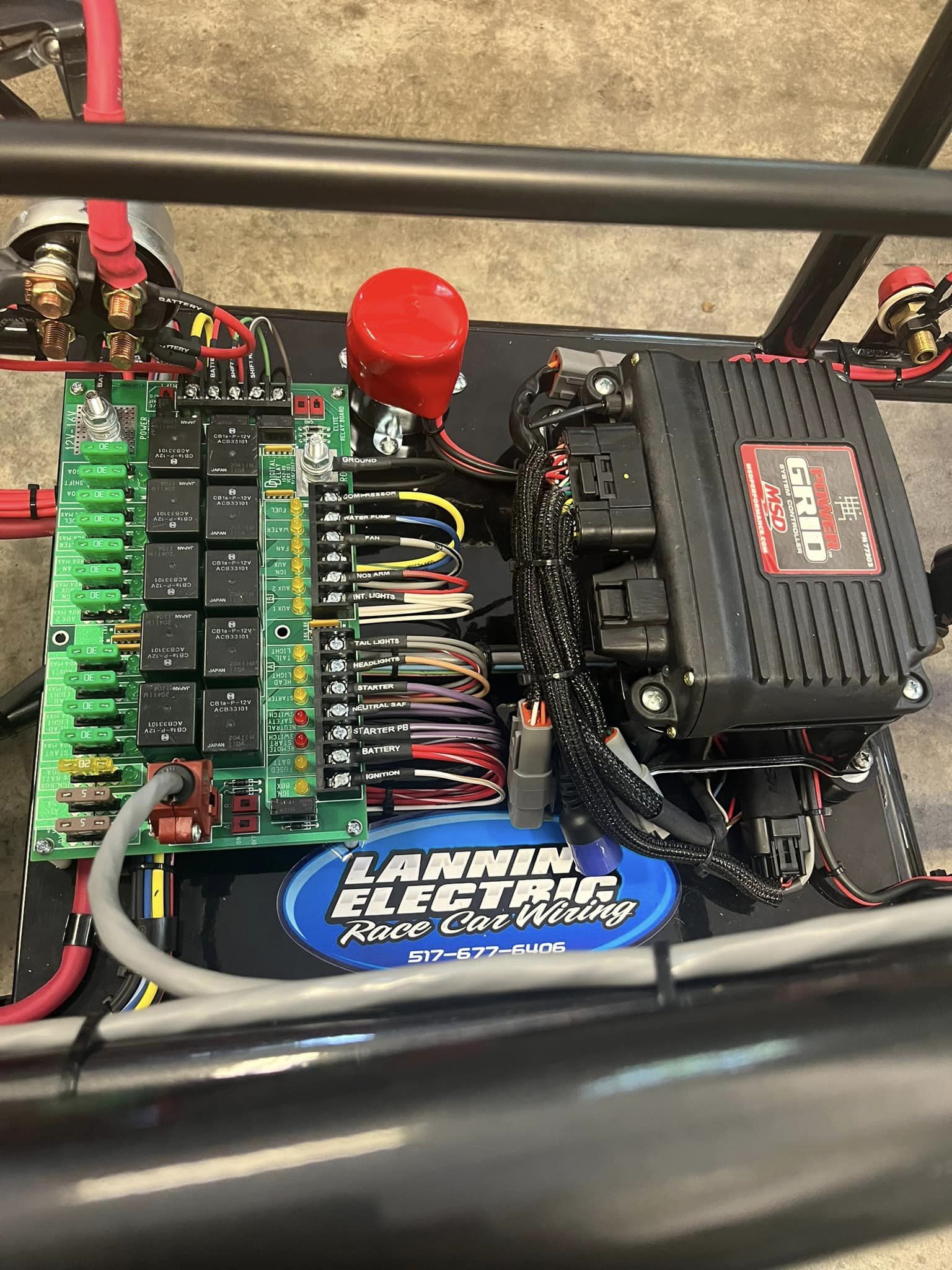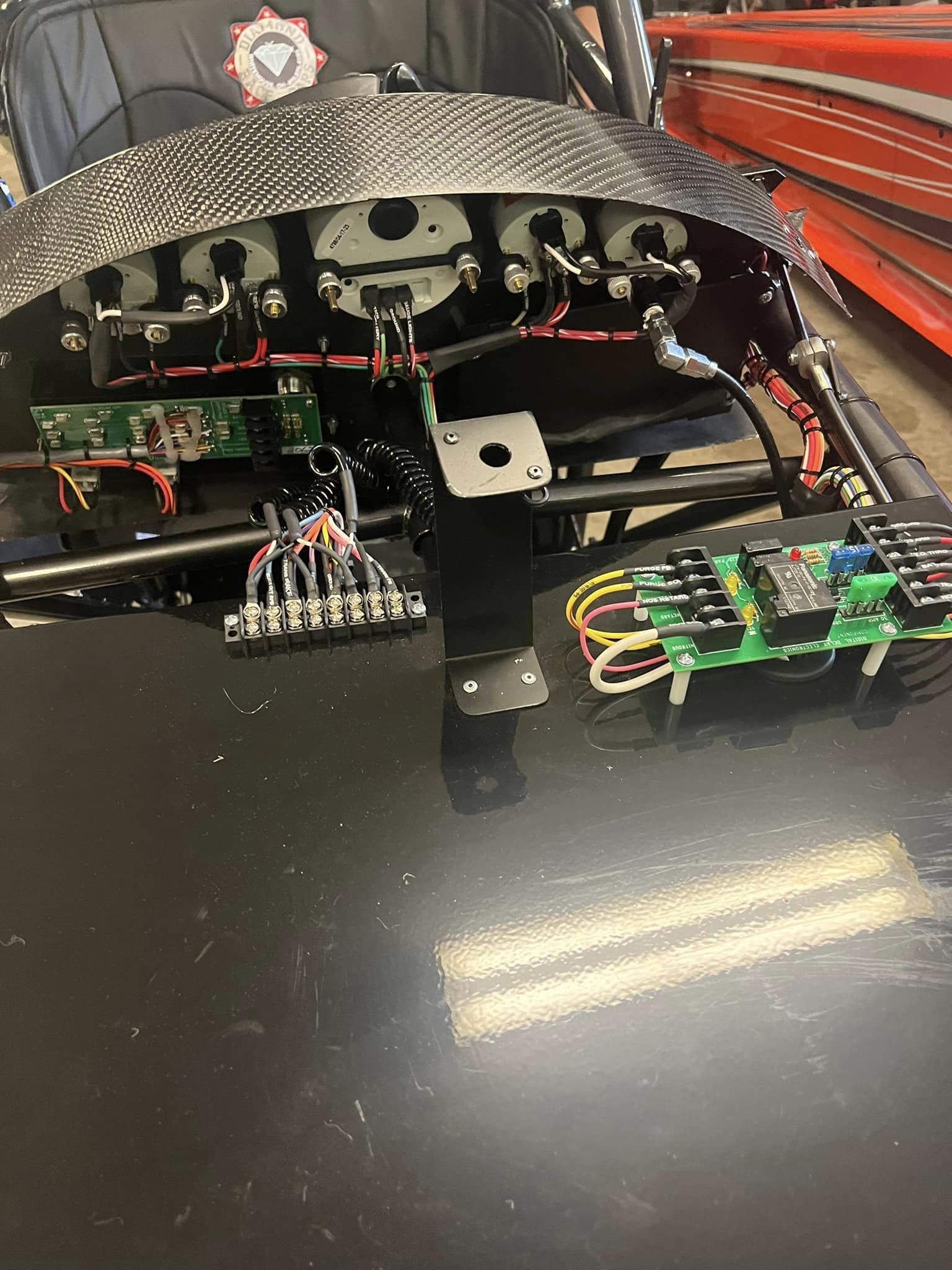 After getting the car back from David, we went to work on getting it ready when it was done being painted. We got the motor set in, fired up, and checked timing, ran the valves, changed the oil, etc. and got my brand new FTI Performance level 5 carbon dipped powerglide tucked in behind my PAR Racing Engines 615 Elite SR20 engine.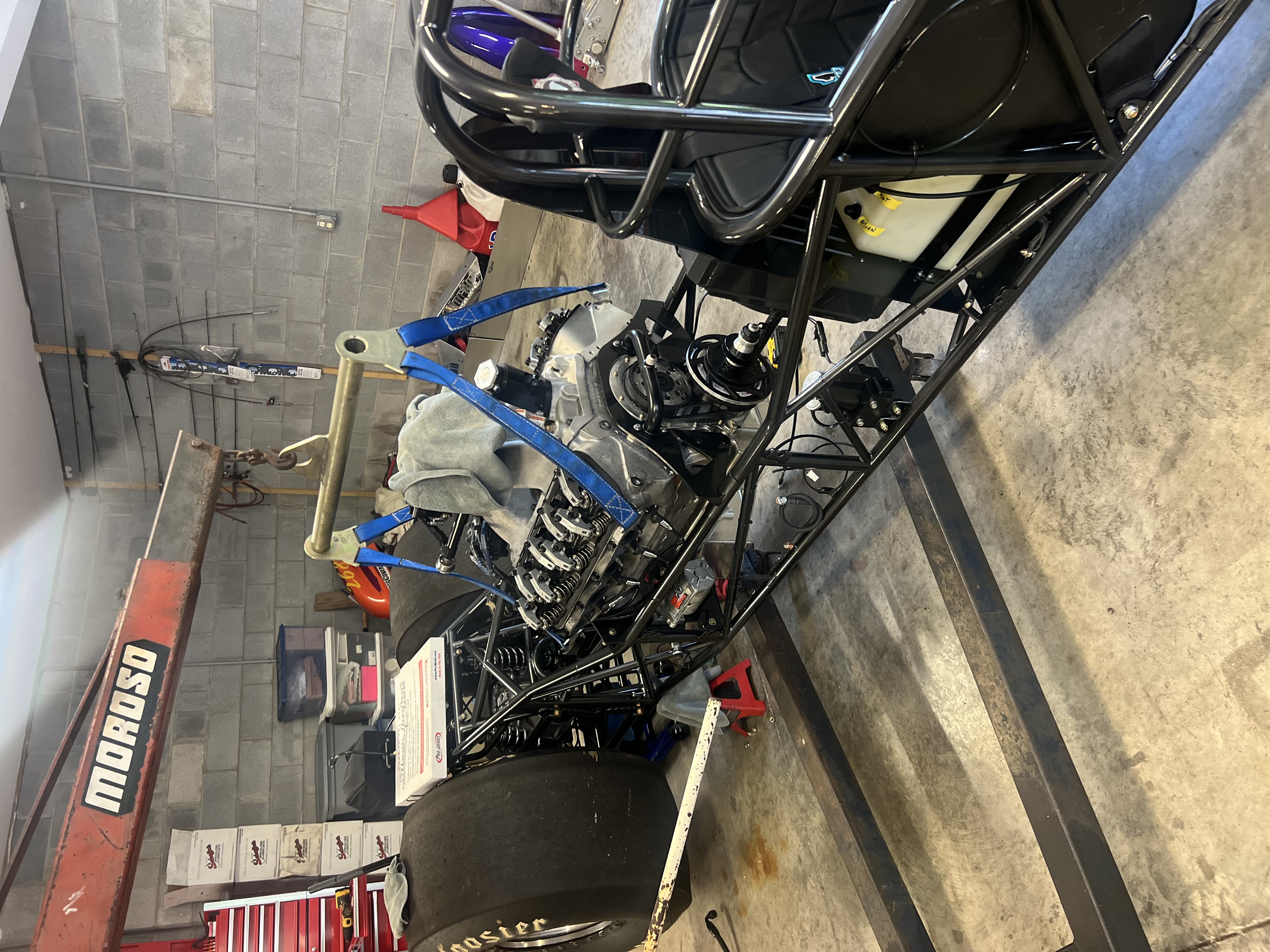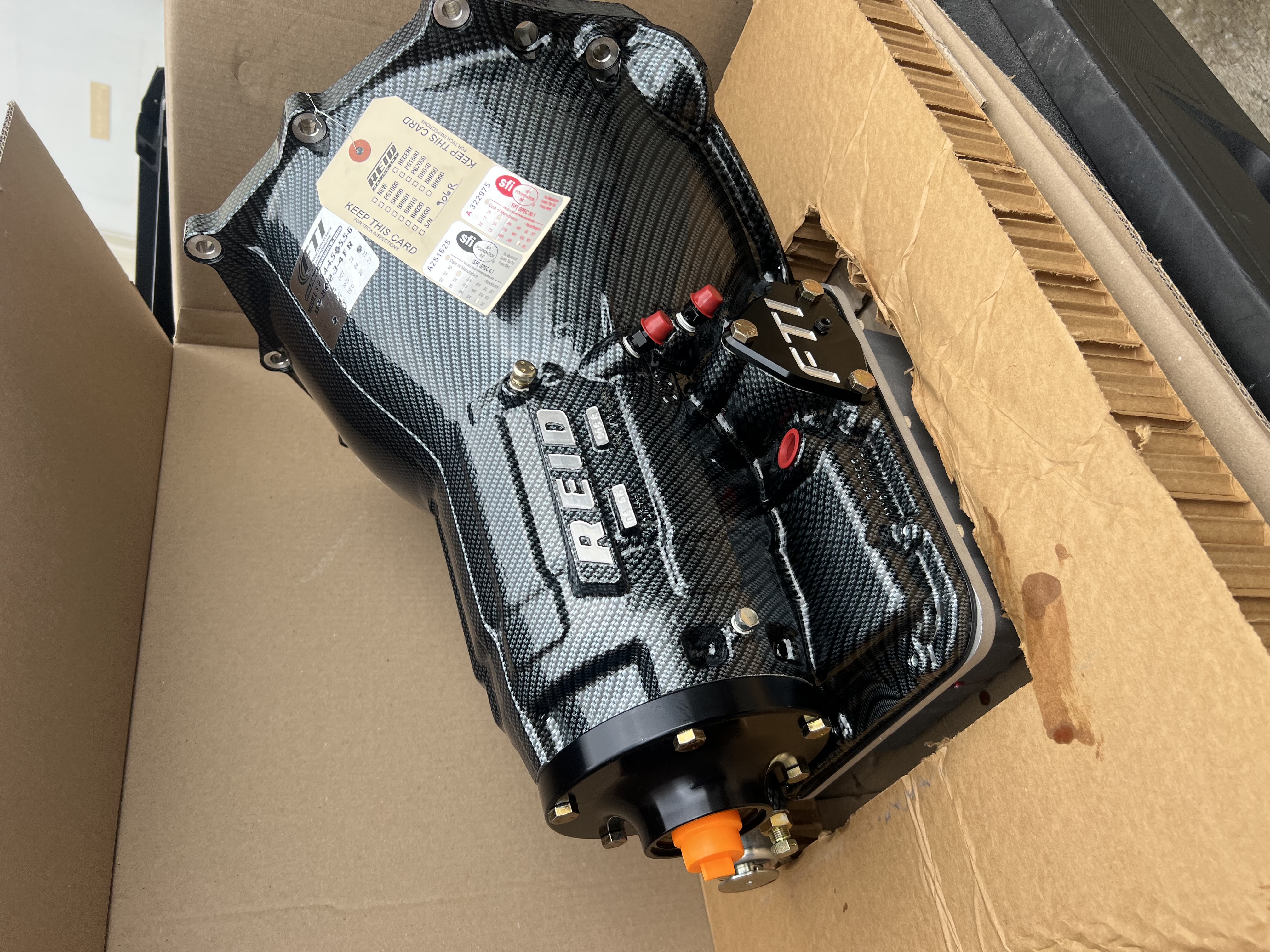 Once all that was done, it was just a waiting game for paint - but we didn't have to wait long. On the way home from Lanning's, we dropped the body, scoop, nose, wing, valve covers, front wheels, and rear beadlock rings off at Boitnoitt Customs in Cincinnatti, Ohio. This was my first time ever working with Jim and I cannot be more thankful of not only the work he does, but the communication that he gives every step of the way. When Jim, the owner, tells you something is going to be done on ____ it is done on ____.
Jim told me about 4 week to get it all done once I gave him the rendering that Chase Huffman of Accelerated Signs and Graphics did for me. I have it pictured below.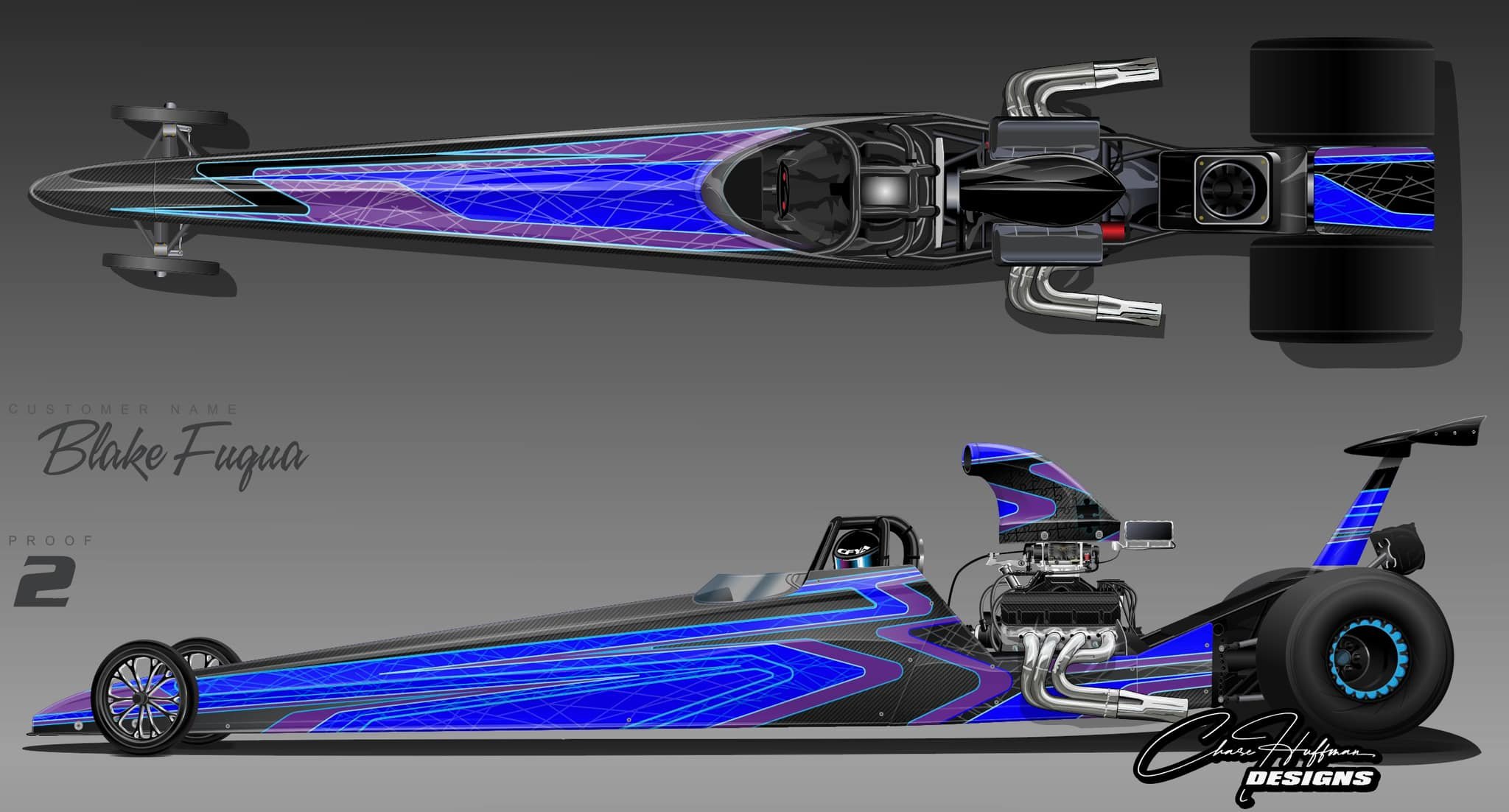 After a couple of weeks went by, I asked Jim if he had any sneak peaks for me, to which he replied with two pictures: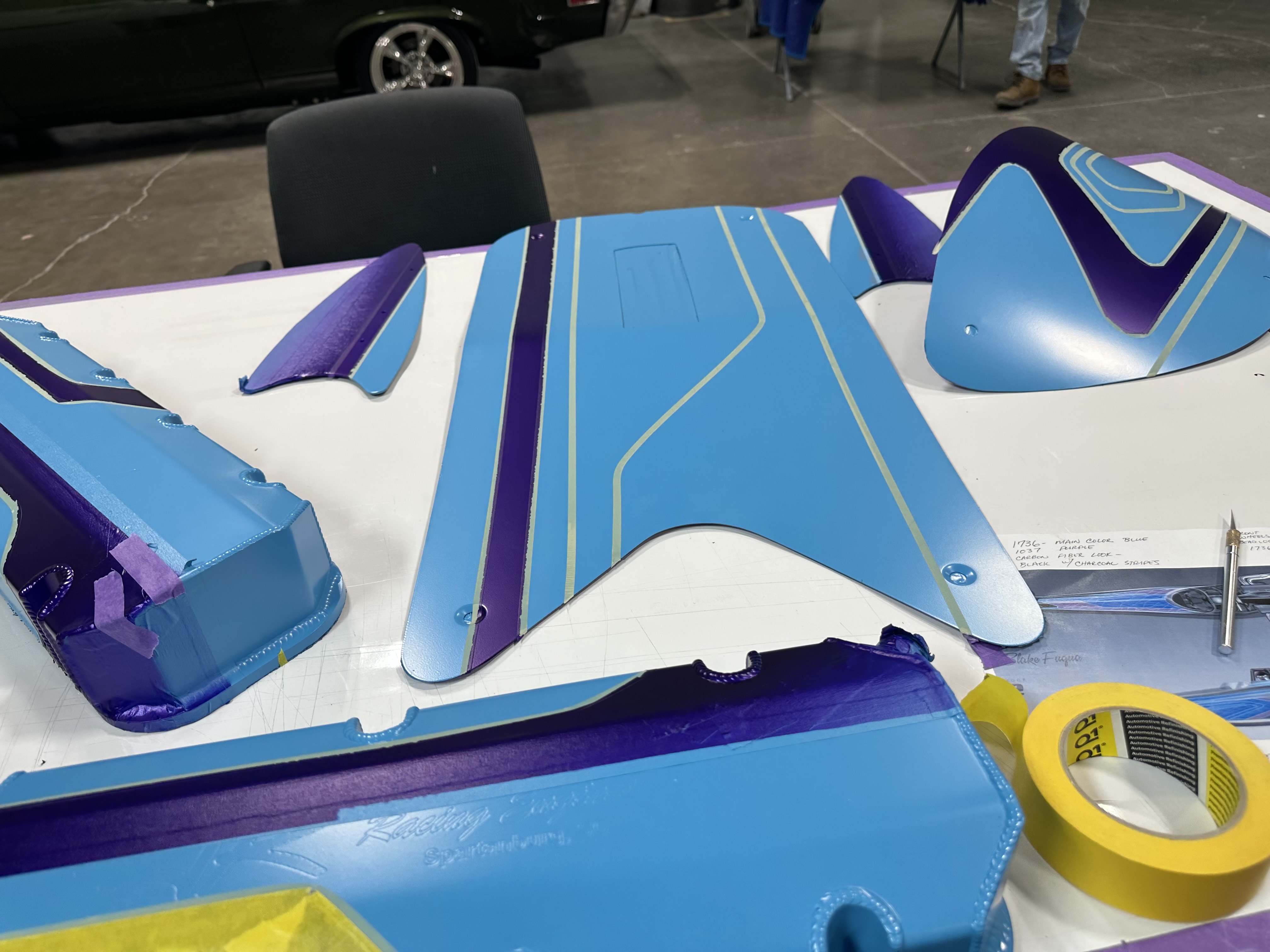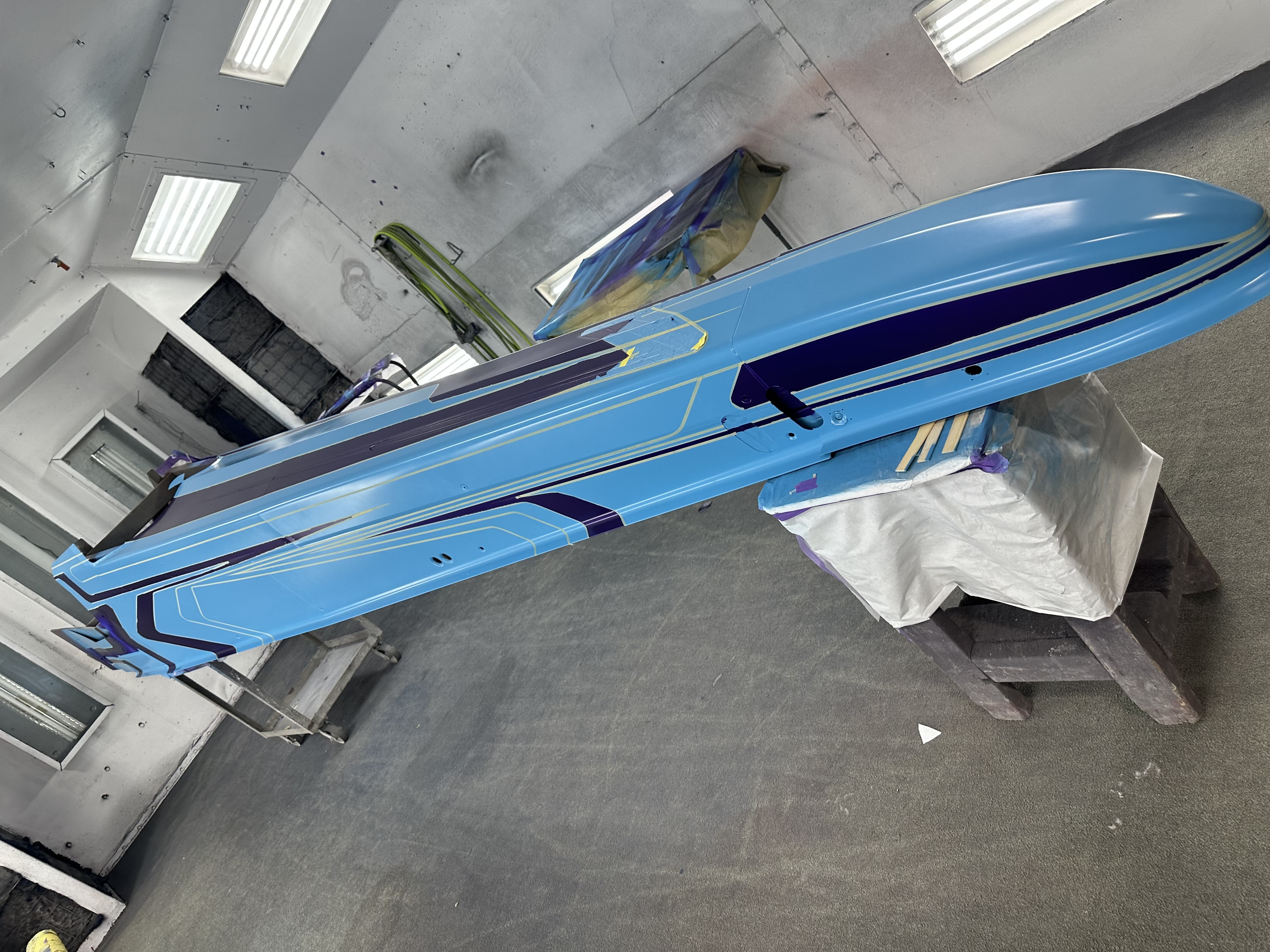 I was so excited at this point, as I knew we were almost at the finish line.
At the three weeks and two day mark, Jim texted me and said it was all ready for pick up. My dad and I left after work on a Tuesday night and stayed the night in Cincinnatti so we could be at his shop first thing Wednesday morning. We packed all of the pieces into the dually and raced home to get it all put together.
The final build pictures will be below, but first I want to go over every single part and component on this car in case someone wants to build one just like it. In my opinion, every part in this car is the best of it's class, setting this car aside from all the other dragsters like it in the world.
From front to back:
FTD Customs T38 black contrast front wheels with blue accents done by Jim Boitnott - Mickey Thompson front runners mounted and balanced by FTD - K&R on board air compressor kit - Digital Delay Elite Mega Panel, Mega 475 Delay Box, and DualView Dial board with a tail light - Lanning Electric did all of the wiring, as well as installing a nitrous relay board in case I ever want to add nitrous - Drag Race Solutions provided all of my trans brake buttons, Titan carbon shifter, water pump and crossover tube, and all of the fittings and hoses we needed to plumb the engine and transmission - Dead On Racing Products supplied the MSD Grid ignition, AutoMeter carbon gauges, APD fuel log and belt drive fuel pump, and the new Stainless Works black chrome dragster headers - Pro 1 Racing and Safety Products supplied the wonderful Elite series seatbelts with magnetic options on the shoulders - PAR Race Engines 615 SR20 all aluminum power plant - FTI Performance Level 5 Carbon dipped powerglide - Mark Williams CV Driveshaft assembly - Moser Engineering center section, dual stainless brakes with 4 piston calipers, and gun drilled 40 spline axles - FTD Customs double beadlock T38 rear wheels - Diamond Race Cars 242" Dual suspended with front shock - Boitnott Customs paint. This car is NOT a carbon body, all of the carbon on the body, wing, etc. was all painted by Jim!
This build would not be possible without my dad helping me assemble and test the car and all of these amazing companies stepping up and helping us in some shape, form, or fassion.
The completed project: